Join us for the 20th Annual Whittle the Wood in 2019
Make plans to attend the annual Whittle the Wood Rendezvous chainsaw carving competition & festival. June 12th through the 15th 2019 brings WTW back for another fun filled four days of carving, arts & crafts and music at Loudy-Simpson Park.

Competitive carving will begin at 9:00am on Wednesday and continues through Saturday. Watch, up close and personal, our talented chainsaw wielding artist & craftsmen as they transform wooden stumps into exceptional works of art. Enjoy the arts & crafts festival and let the live music move you.

We are excited to announce Leftover Salmon as our 2019 headliner!
Take advantage of the FREE SHUTTLES!
Free Shuttles available Saturday from 10AM - 8:00PM
Picking up every half hour from the following locations:
Old Safeway Parking Lot
N.E. Corner of Ranney St. & 1 St.
S.W. Corner of Ranney St. & Industrial Ave. (Old Country Mall Site)

CLICK ON THE BUS TO DOWNLOAD A MAP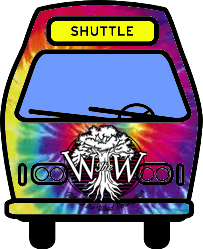 Witness the Transformations

Each year a new round of raw logs is place and through a lottery the logs are matched to the carvers. You get to watch the transformation that starts on Wednesday morning and is completed by Saturday afternoon.

Join in the Fun!

Get up and get moving to the sounds of the LIVE music entertainment on Friday and Saturday nights. Check out all the great craft and food vendors that add to the flavor of the event.
We encourage you to invite family and friends to a fun filled day in beautiful Loudy-Simpson Park. The residents have voted WTW "Best Special Event" and "Best Tourist Attraction" for the past several years. We invite you to come see why!
Remember that coolers are welcome but please leave your alcohol, pets and BBQ grills at home.